Interview with Ros Nelmes | Founder Director, Fordington Gin
June 21, 2020
Into a rural location, mix thirty years as a chiropractor together with a lifelong passion for food and drink. Add an inspiring evening at a tasting event and introduce in equal measures botanical knowledge and curiosity. Stir well and garnish with industry-recognised awards. Follow this recipe and you might just end up with a business like Fordington Gin.
Founder Ros Nelmes reveals her journey began with an experiment on the kitchen table. "After attending a gin tasting night with Conker Gin, an independent distillery set up by a former quantity surveyor, I began experimenting with making it at home. There was a lot of trial and error; much of it went down the sink!" she laughs. "I've always loved the idea of doing something different, so after the best part of a year trying to create the right combination of flavours, and nearly giving up, I hit on what is now the base for Fordington Gin." The first batches were only intended for family and friends, she explains, "but it soon became obvious that I had something worth making commercially, so the processing of getting licensed began."
The company now has more than five years' experience producing four varieties of artisan spirits, receiving accolades from various industry competitions: "The gins are always blind tasted at these events," Nelmes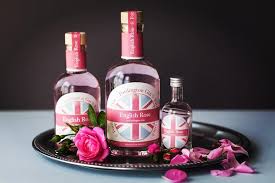 explains. "Out of the six-hundred entered at the World Gin Awards, we won silver. We also won gold at the Taste of the West awards last year, gold at the Women's Distillery of the Year awards, and have been shortlisted by Raymond Blanc for the Great British Food Awards."
The best gins, she says, use locally sourced botanicals, from organic producers where available. "You have to consider a range of factors when making a gin, and understanding where your ingredients come from is very important. We'll use up to fifteen botanicals in a single variety of gin, and buying in very high quality water makes a huge difference to the outcome of the flavour. Good gin has to be made with true passion and commitment," she reflects.
"But a small producer shouldn't expect to make a fortune at it;" she says seriously. "You make money for the government. In the manufacture of spirits, we pay duty for the base, so say a bottle is 40% alcohol by volume (ABV), we pay for duty on that 40%." The silver award winning gin at 38% ABV sells at £25 for a 35cl bottle. Somewhat stronger is the Gurt Lush launched by Fordington Gin. At 50% ABV it combines traditional juniper with fennel and lemon balm, with the cost of a 35cl bottle at £35.
Targeting the gift market has been a priority. "A lot of our purchases are intended as presents, so we produce a seasonal Christmas Cheer gin because psychologically, people don't always want to spend £25 on a 35cl bottle of gin for themselves," Nelmes considers, "but they do for their friends and family." However the rise of craft gin subscription schemes, where members pay a monthly fee to receive a bottle of artisan gin delivered to their door, signals another opportunity for small-batch manufacturers. "I think initiatives like these are a brilliant idea," says Nelmes, "People like to try new things, and once they find a product they like, they'll have confidence in the brand and will buy it more often."
For a rural business, the internet is the equivalent of having Hs2, a motorway, and an international airport rolled into one. "On-line sales have massively increased sales because Google Ads and Facebook are affordable ways of getting your product out there," says Nelmes. "As far as a business in a more remote location is concerned, the internet can level the playing field in terms of access to market."
And taking the business to the next step is all about branding and marketing for Nelmes: "At the moment we're in seventy retail outlets, but I want to develop that through more effective marketing. There is a company that produces non-alcoholic alternatives to spirits, for example, which started up two to three years ago and have just sold out for millions. I think their success has been helped by a really efficient marketing strategy." The challenge is to make Fordington Gin a more established name; "a go-to brand of high-end gin that people want to have at home as well as give and receive as a gift" she says.
Another challenge has been finding the right support, with Nelmes contending that small businesses are largely overlooked by government, which she says needs to re-define what they consider to be an SME. "Of all the companies in the UK, 96% employ fewer than ten people," she points out, "but government classifies small and medium sized enterprises as any organisation with up to 250 people! They're not really interested in the butchers, hairdressers of this country." To that list she adds the small gin makers."
Researched and written for Ward Goodman by DECISION magazine