Interview with Katie Goldsmith | Owner, Collarways
December 4, 2020
It was an overheard conversation which resulted in Katie Goldsmith acquiring her business seven years ago.
"I remember the owner saying that selling up would be easier than having to get to grips with a new accounting system that the business needed," she smiles.
It all started when the founder of Collarways saw a dog wearing a designer collar when she was on holiday in the United States, and decided to import them as a sideline. Goldsmith joined ten years ago as office manager. Her parents had retired to the area and she came down with her family. "Before," she explains, "I would spend a couple of years in a job and then think why isn't the company challenging me to do more; eventually after a 'use me or lose me' discussion, I'd leave."
Actually what attracted her to Collarways was being able to bring her dog to work. Two years later she became operations and sales director as well as a shareholder when the distributor of "high quality accessories for dogs" became a limited company. Four years later she became the owner.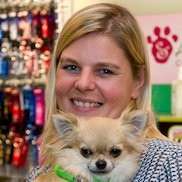 "We only choose products that stand out from the crowd (should that be pack?) in their design, innovation and quality, and each one has to have a unique selling point," Goldsmith explains. Such as Lupine Pet collars which carry a lifetime guarantee even if they have been chewed. Pawz natural rubber dog boots are a best seller as they keep bandages dry.
Representing eight brands, Collarways have 2000 skus (individual stock items).Most of the products are sourced from small manufacturers in the United States, but there are those which wouldn't work in the more functional UK market. Nail varnish for dogs, and unicorn or spiderman canine outfits she describes as "just quite insane."
"There are two trade major exhibitions, in Florida and Las Vegas, where all the manufacturers and suppliers are in one place and we get to see the trends," Goldsmith says. That has resulted in some diversification, such as bringing over the Pet House range of car fresheners and scented candles from US-based One Fur All, the latter made from 100% natural dye-free soy wax without the use of petroleum by-products.
And Collarways were inspired to attempt design a product of their own. "We designed a travel bag for dogs, but it was too expensive to make in the UK or US," explains Goldsmith, "and and there wasn't enough volume for a Chinese manufacturer."
Sales channels are to the trade (pet shops), with some products available direct to consumers on Amazon. "The latter was almost forced on us," says Goldsmith. "A company in our position needs to have a 'shop' on Amazon because it's about having brand presence; otherwise we aren't seen to exist."
"Our own USP is that if a pet shop has a return, we deal with it, even sending a replacement direct to their customer," she reveals. "It's a care package which demonstrates to whoever has invented a new product that we are the people to talk to and because we are independent, they know we will will take care of their 'baby' in in the UK."
Researched and written for Ward Goodman by DECISION magazine