Firstly, we want to let you know that all of the team at Ward Goodman are fully operational and working from home, implementing our Social Distancing policy as much as possible.
They can all be contacted via the usual e-mail addresses and telephone numbers, and our main switchboard numbers are also being answered remotely during what would be our normal office hours.
With information coming out from the government on a daily basis with schemes and funding aimed at supporting businesses and individuals through the current economic instability caused by the outbreak of COVID-19, we are going to use this page to summarise what is currently available to our clients and all businesses.
Wherever possible we will add links to the source of the information we are providing. Our team will add their own knowledge and advice where appropriate and hopefully we can provide a useful source of information to help you make the right decisions within your business or organisation.
Ian Rodd | Managing Director
WG Hub Live is a series of free webinars where we bring together a panel of experts to discuss relevant topics of the day. You can watch all previous WG Hub Live recordings and download the speaker presentations by clicking the button below.

The Blackmore Vale's Digital Magazine
A Vale as old as time – and a fresh new take on an old classic local paper
As the second Covid-19 lockdown took effect on 5 November, the Chancellor returned to Parliament to announce extensions to key support measures for individuals and businesses over the coming months.
Coronavirus Job Retention Scheme (CJRS) will now run through to March 2021.
Employees will receive 80% of their salary for hours not worked, capped at £2,500 a month. Employers must cover National Insurance contributions (NICs) and workplace pension costs.
One important difference from the previous furlough scheme is that claims can be made for employees notified to HMRC with a real time information (RTI) submission by 30 October.
Self-employed Income Support Scheme (SEISS) – two further grants.
The new extension covers a six-month period divided into two additional grants. The level of the third grant is now 80% of average monthly profits. Applications for the third grant covering the three months from November 2020 to January 2021 will open on 30 November and will be capped at a maximum of £7,500, paid in a single instalment. HMRC says that it will pay the grant "sooner than planned and in good time for Christmas". No details as yet but a fourth grant will cover the three months from February to April 2021. To claim, you must have been eligible for the previous two (even if they were not actually claimed), so this excludes anyone with:
average annual profits exceeding £50,000;
self-employed income that makes up less than 50% of total income; or
no trading history before the 2019/20 tax year.
Job Retention Bonus (JRB) – The £1,000 JRB will not now be paid in February
Government-backed loan schemes – the Coronavirus Business Interruption Loan Scheme (CBILS), Bounce Back Loan Scheme (BBLS) and the Future Fund – have also been extended through to the end of January.
As a business owner you will know that cash is the lifeblood of any business, without it a business will cease to operate. In the coming months it will be critical to manage these cashflows and have detailed plans in place.
You can do the same thing for your own personal finances. If you have a mortgage or loan then you could contact your lender to arrange a payment holiday and reduce unnecessary expenditure to prolong your own personal cash.
During last week and particularly on 20th March the Chancellor has announced a radical package of help for businesses which are detailed below.
Roger Duckworth | Head of Business Services
The uncertainty that this crisis has put on many individuals is unprecedented.
It is vital that not only are you doing the right thing for your own health, but you are also reviewing your own personal finances.
The Chancellor has announced a number measures aimed at assisting individuals with managing their finances in the coming months, but everyone's circumstances will be slightly different.
If you want to talk through your own circumstances, our team are here to support.
Gareth Simon | Head of Private Clients & Financial Services
The first thing to think about is your cash position – Cash will be critical and more often than not squeezed over the next few weeks and months.
Look at your current cash position. Forecast your worst case scenario incomings and known outgoings over the next thirteen weeks and prioritise your expenditure.
There is existing help from HMRC in respect of time to pay agreements for VAT, PAYE and Corporation Tax if these are applicable and these costs are the ones you should be looking at deferring or spreading out in the first instance.
Jen Richardson | Head of Charities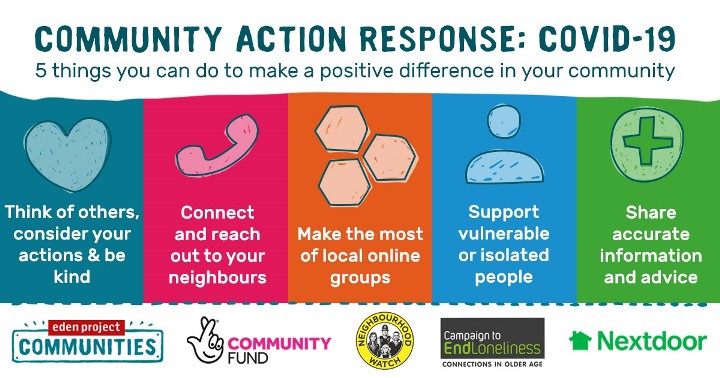 Courtesy of EdenProjectCommunities.com
Ferndown Office
01202 875 900
Shaftesbury Office
01747 835 435
Wareham Office
01929 551 551